Compassion

When the cries of children come to the ears of a Christian,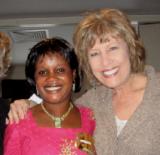 there is a response... How could it be otherwise?
We have partnered with our dear sister Agnes in Kampala, Uganda to assist in the establishment of an infant's home.
Little children are often abandoned on the streets to starve and be devoured by dogs. Such things ought not to be. The Lord compells us to "visit the fatherless and widows in their affliction..." and we are doing what we can to help her.
Agnes has already established a children's home that provides food, shelter, clothing, and an education to over 900 abandoned children. Now, she desires to reach out to the babies. We will help her...